Hallo! Willkommen auf dem Blog. I arrived in Berlin on Monday, the 4th of July, after an arduous, soul-crushing journey.
I had left Philly on Sunday morning, taking the MFL Subway to 30th Street to catch a bus to New York. I arrived there two hours later, taking yet another subway to Jamaica Station, where I caught the JFK Airtrain. A mere eight hours later, after soaring over the Atlantic, I touched down in Berlin, where I met with another bus, and another train, and, finally, I reached mein Haus. (While I was waiting for the bus at Tegel Airport in the mist, I snapped the photo above.) Although I had arrived, finally, at my house on Berliner Strasse in southwest central Berlin, I had to go to the Goethe Institute for reception and placement exams.
Süßer Friede,
Komm, ach komm in meine Brust!
–Goethe, Wanderers Nachtlied
Two more trains. U-Bahn. S-Bahn. I detrained at Alexanderplatz (which wasn't the right stop) and realized that I had forgotten my directions from the train station to the school. Thus my first interaction with Germans was asking them whether they were familiar with Neue Schönhauser Straße (Kennen Sie Neue etc. etc.?). It turns out, most were not; nevertheless, I found it! (I assure you this was an exclamation point moment.)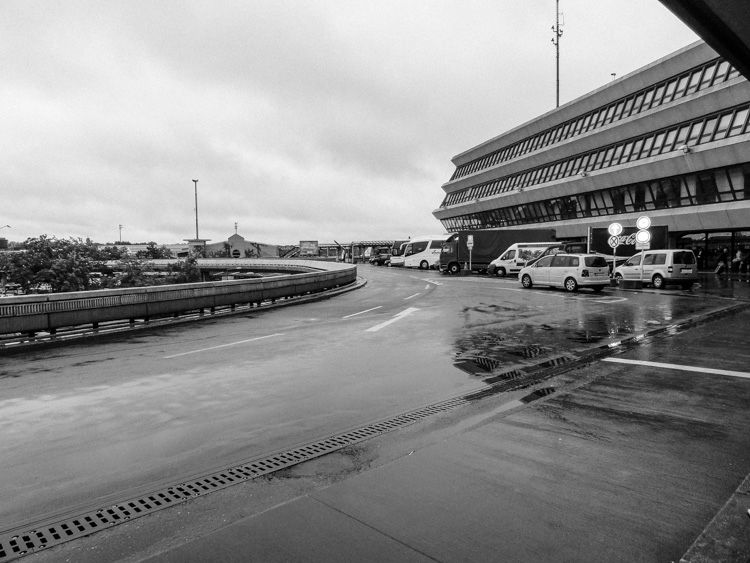 But then I found out that I had to take at least two hours of exams: standardized, written, and oral. By the end, my head was aflame. Exhaustion, jet lag, and the strangeness of it all made curling up on the table of the nearest beer garden seem like a logical thing to do.
But, more importantly, I had made it. I am here—I am in Berlin.